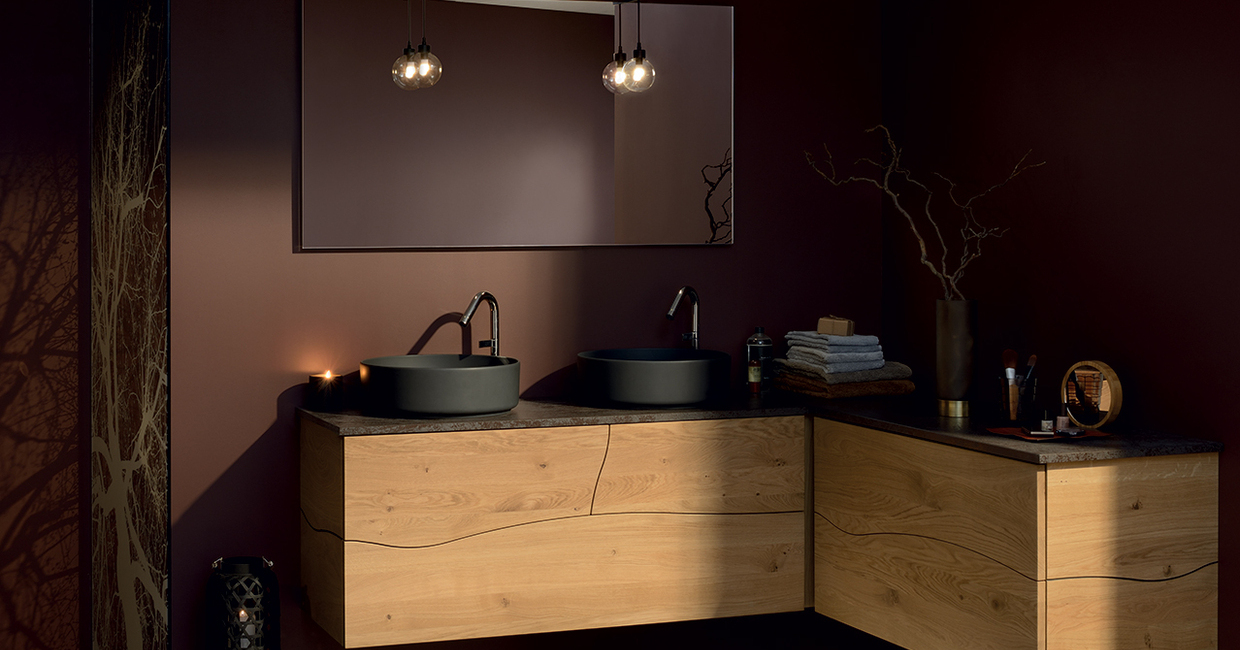 Creating a luxury bathroom!
Creating a luxury bathroom means combining two essential elements: the aesthetics of the room and the quality of the materials. With its exceptional know-how and in-depth knowledge of quality French products, Sanijura combines these two essential elements to design and build the luxury bathroom of your dreams. Your bathroom is the space dedicated to well-being and self-care and so it is essential that you should feel comfortable in it. And first and foremost, that means carefully chosen furnishings and decoration.
Why choose a luxury bathroom?
Why choose luxury fittings for your bathroom? That's a question that regularly comes up. And the answer will, of course, vary according to what each individual wants and likes. On the other hand, if you were to ask us to define what we mean by "luxury" in a bathroom, that's easier to answer: the use of quality materials (most of them made in France) and the choice of an elegant, luxurious colour scheme. Of course, there are other things we could add to the list. This is a room that deserves to be paid particular attention to ensure your comfort and satisfaction, and at Sanijura we are acutely aware of that.
Choosing high-end furniture means you can be sure of its quality and that it will last. This is the promise we aim to keep with our Sanijura bathroom furniture and accessories. Choose furniture made of top-quality natural materials for your bathroom: the material of choice remains wood, noble material par excellence.
Above all, a luxury bathroom means creating an aesthetically pleasing room. The more beautiful and imposing it is, the better it qualifies as a "luxury bathroom". Add original designs, chic, sleek furniture and you will have a prestigious bathroom. Luxury also means large, beautiful mirrors to make the room feel bigger and add a touch of elegance.

With high-quality, French-made furniture and a richly deserved reputation for value for money, we put your quality bathroom within your reach. Sanijura makes luxury affordable.
Are you wondering why you would need a luxury bathroom? Quite simply to have a quality, aesthetically pleasing room to enjoy.
So what defines a luxury bathroom?
What is the most important factor in creating a luxury bathroom for your home? Thinking carefully about your choice of furniture. That is essential. For example, maybe you are thinking of a solid wood cabinet with a Ceratop vanity basin. This is the designer's dream combination when it comes to bathroom luxury. Ceratop is a prestigious, high-quality material that will fit perfectly into your luxury bathroom.
The beautifully finished design cabinets are an essential part of what will give your bathroom that "luxury" feel. Quality is also synonymous with durability, which is why at Sanijura we select the materials we use for our furniture with the utmost care.

Add contemporary accessories to bring a touch of elegance and prestige to your interior. For example, large mirrors chosen to match your cabinets, modern light fittings, tall wall columns in an original design. And if you can't find cabinets exactly to your taste, you can custom design the cabinets of your dreams.
How to create a luxury bathroom?
If you like solid wood furniture, we recommend our "Colombine" range created by a designer. This award-winning line has won the hearts of many a bathroom interior design enthusiast. Its original shape and attractive design and the black counter and basin can't fail to please. Or you could choose "Sherwood", renowned for its elegant drawers and prestigious, fluid lines.
And if space is at a premium, we can recommend "Tiny", a multifunctional bathroom unit that will give your bathroom that extra something.

To design your ideal luxury bathroom, you need to think carefully about all the slightest details of how to fit out this room dedicated to well-being to create a luxurious ambience. The classic marble-effect basin will fit perfectly into your luxury bathroom. It is guaranteed to bring a touch of luxury and elegance to the room. In addition, if you have a large shower or a large modern bathtub, you can't do better than marble to create a pleasing aesthetic effect. You can even choose the legs for your cabinet to match the legs of your bath or shower… Anything is possible! The main thing is consistency and to maintain an elegant theme throughout your bathroom.

Finally, for a truly luxurious bathroom, you will need to choose furniture created by a firm with a wealth of French know-how behind it. Do so and you are guaranteed to end up with a truly luxurious, high-quality bathroom. At Sanijura we will always seek to highlight the know-how of our craftspeople, just as we have been doing for 110 years.


What things do you need to think about when you want to create a luxury bathroom?
As we have already said, to create a luxury bathroom in your home, it is essential to opt for quality materials (and preferably French or European in origin). Your choice of materials will determine the overall quality of your bathroom. For don't forget, "luxury bathroom" goes hand-in-hand with "high-quality bathroom".
We recommend that you choose sober colours. You can't go wrong with black and white for a luxury bathroom. The same goes for wood, top of the list of materials in designers' minds when they think of "luxury bathrooms". Our Colombine designer cabinet is the perfect example of what's on trend right now: a sublime combination of natural wood and black for an original, sober bathroom.

Finally, you can be sure that your high-end cabinets are utterly flawless. Our idea of quality takes your furniture to the verge of perfection. Of course there can be knots and veins in wood when it is not prime quality. That's why at Sanijura, we only use quality French timbers. To guarantee you a perfect luxury bathroom every time!