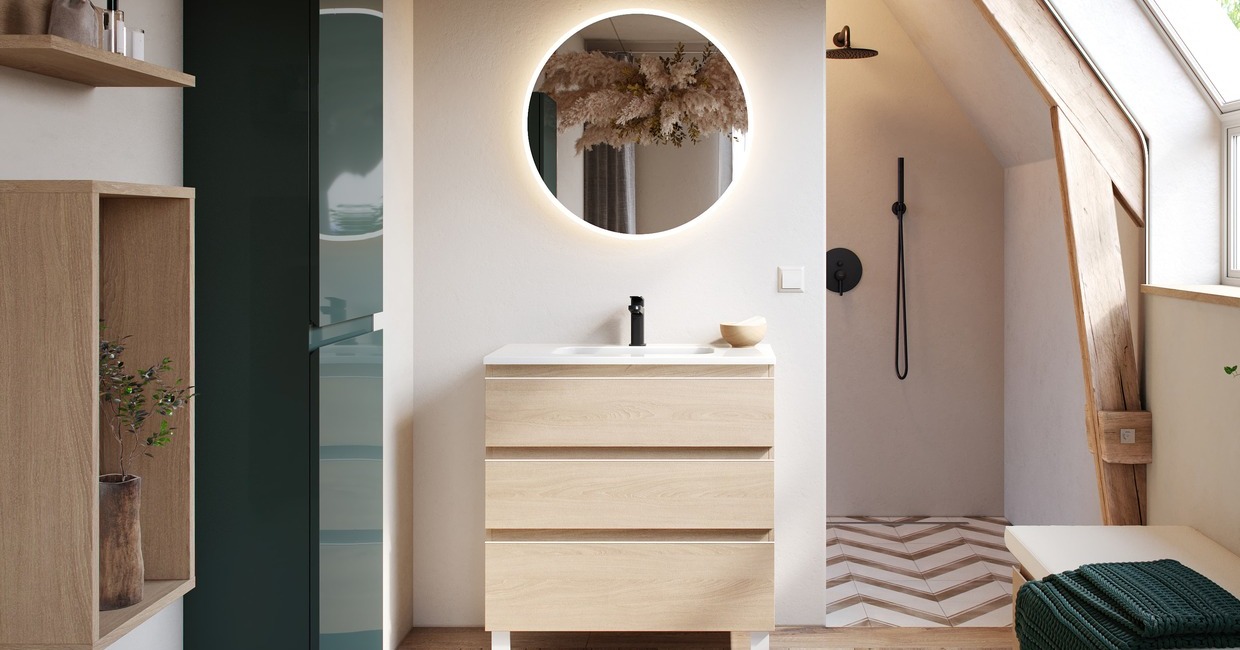 HOW TO GET MY DESIGN BATHROOM JUST RIGHT ?
Would like a design bathroom, but you don't know where to begin? This article is packed with advice on how to fit out a bathroom, just for you. It is written by our advisors and in it you'll find a wealth of ideas to guide your choices for your design bathroom. Bathroom furniture specialists Sanijura offer a wide variety of cabinets and additional items that you can choose from to decorate your bathroom. Your bathroom won't just be attractive and trendy, it will also be totally ergonomic and designed for comfort.
Why choose a design decor for your bathroom ?
The bathroom is the room where we really want to feel good. And above all, that means having a pared-down design space. At Sanijura, we have always tried to keep up with the latest trends in French furnishings and use them to create comfortable bathrooms. That's why we offer attractive cabinets with original designs and appealing, modern colours.
Do you like to be in style, including in your home and right down to your bathroom? You are in the right place.
The importance of beauty in a design bathroom:
You can turn this essential room in your home into a beautiful space. Our advisors will be able to put you on the right track to make the best choices for your shower and bathrooms. This room dedicated to well-being has been inspiring bathroom furniture manufacturers like Sanijura for decades. We have the best designers and product managers on the market, and everything we do is carefully thought out to satisfy you with our unique and creative designs.
The more dazzling your shower space, the greater the effect on your well-being. For some, a "design" bathroom will be synonymous with luxury, but not necessarily. In the end, everyone has their own definition of what a "design bathroom" is. At Sanjijura for example it will be a comfortable space, where you feel good and which is in line with the latest trends. For others, it might be about having certain specific colours (e.g. white, black, marble, etc.). That's what we love when are making new pieces to fit out your bathroom: the sheer diversity and the endless possibilities.
Being trendy and modern even in your bathroom:
Fitting out a trendy (and modern) bathroom is a must these days for many furniture lovers. If you too dream of a smart bathroom, don't hesitate to follow the latest trends to create your space. That way you will end up with a magnificent functional design bathroom. The be-all-and-end-all being that you feel good when you are in your bathroom. You can easily keep abreast of the trends by consulting our social media or asking our sales staff for advice.

Perhaps you have an idea but you don't know quite how to express it in a piece of furniture? Our selection guides have been produced to help you choose the cabinets of your dreams for your design bathroom. To be sure your bathroom is fitted with original, attractive furniture. Opt for Sanijura's current must-have range: Infinie. This is the iconic collection you need to create your design bathroom. As the name suggests, you'll have an infinite number of possibilities for your cabinets and accessories. Being able to choose and create just what you want is the secret to a successful design bathroom…
Still unsure? Check out our inspirations to help you make your choices for a design bathroom and see our suggestions on creating a design shower room…
How to create a design bathroom? How to fit it out?
The secret to fitting out a design bathroom? Easy-peasy! All you have to do is choose the right accessories! And to do that, you can choose from innumerable possibilities: mirrors, wall-hung columns with or without niches, drawers… the list just goes on and on! You can also add items to your vanity unit to accessorise the room.
No such thing as a design bathroom without accessories! They are indispensable to create a pleasant, airy space. At Sanijura, you can find a plethora of bathroom cabinets to go with your vanity unit.
One essential thing about a design bathroom? A carefully thought-out, ergonomic layout It is always going to be important to think about the ideal layout for your bathroom and not just the decorative aspect, important as that may be. We advise you to think about what you need: how many drawers? What size cupboards? Recessed washbasin or not? This information may seem futile, but it is essential if you are going to have a design bathroom that's also practical to use. As we said before: a beautiful bathroom is a comfortable room.
Note that at Sanijura, we may mix materials (lacquered, solid wood, melamine, in particular) and colours, or we might choose a sober look for a harmonious design bathroom. We can make whatever you wish for. You'll find most of our inspirations on our social media.
That big "little extra"? Matching colours! Are you looking for cabinets to match your white tiles? No worries, we have what you need: in the Sanijura range you will find THE cabinet that goes beautifully with your tiles as well as being totally on-trend! Finally, maybe you'd prefer a black washbasin? No worries, it's available at Sanijura… Whatever you ask for, we have. Impossible not to find what you're looking for among all this choice! Maybe you would like to match your basin to your taps? All you have to do is ask: we are bound to have what you need among all the colours available at Sanijura. To ensure your bathroom is totally "design", don't hesitate to consider mixing and matching colours: see our creations for inspiration. That way you are sure to find THE perfect combination for an elegant design bathroom!
To create a design bathroom and ensure you feel at home in it, we recommend that you create a "universe". For example, you could combine wood with warm colours for a Scandinavian feel, or create a pared-down black&white universe for a distinctly modern bathroom. Some bathrooms will be sleek and streamlined, others less so, it's all about personal taste. Whatever you go for, we recommend using the lighting to create the universe that suits you best.
And the final touch for a design bathroom? The decoration! You can decorate your bathroom to create a relaxing, pleasant, elegant space with plants, mats of various thicknesses, matching towel warmers, etc. There's everything to play for when you add the final embellishments to your spaces! Be original and inventive. You can even be pernickety about the smallest details if you want: a soap dish, a container to fill in the same colour as your cabinets, design lamps that reflect the style of your bathroom, little storage trays to hide away your beauty products in elegant fashion... Just a few ideas: you'll find plenty more on our website.
The key to creating a design bathroom?
Take inspiration from the latest trend, seek out new ideas, compare and, above all, get advice from connoisseurs in the field.
Still unsure? Go and see a bathroom specialist near you to get some advice (link to Find a dealer near you). They'll have a wide range of vanities, basins and cabinets to choose from, in all sorts of different timeless styles: go on, your bathroom can only come out more pleasant to spend time in! A relaxing, design room… it's everybody's dream, isn't it?
Key takeaways to create a design bathroom:
Check out the latest trends: look at our social media and use our photos for inspiration.

Choose colours and materials that you like and that go together.

Choose a vanity unit that matches the column cupboards and drawers of your choice
Make the most of accessories: a mirror will make the room look bigger and classier, add legs to your vanity unit for an original touch, a niche looks attractive and provides storage space,...
Create a universe for your bathroom that reflects your preferences (bright/dark, pared-down/busy, etc.). The more creative you are, the more you'll love being in your bathroom.